Monday, January 18, 2010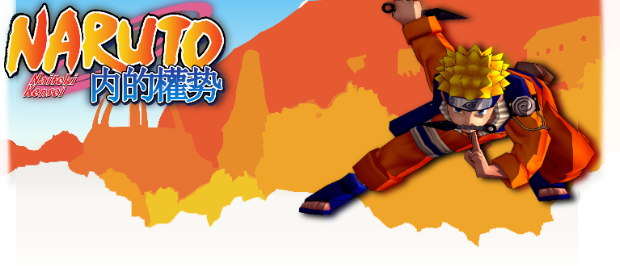 Naruto: Naiteki Kensei
is a free total-conversion of Half-Life 1 that offers a new and unique fast-paced gaming experience based on the hit Japanese anime Naruto. Combining aspects of a third-person shooter and an action-based fighter, players will be able to go head-to-head against others online casting clever and powerful jutsus, performing evasive, acrobatic, and free-form movement and melee, and utilizing an array of weapons with multiple functions easily and evenly.
Players are able to transverse through full 3D environments, utilizing various ways of movment such as walking on walls and water or dashing around the streets of a village.
Gameplay consists of three main systems: weapons (#2-0 or mouse scroll), jutsus (holding shift and inputting a combination of WASD keys), and taijutsu or melee (#1 slot).
The weapons included have both primary and secondary functions for each one. Players are able to use kunais as a melee weapon and are able to throw them. Shurikens can be thrown one at a time yet accurately, or multiple stars in a spread-out shotgun manner. Exploding tags can be stuck on surfaces and players, as well as being able to throw one connected to a kunai.
The jutsu system allows players to execute powerful jutsus or techniques. By holding shift, players will then input combo strings of 2-4 using WASD on the keyboard. Correctly inputting a combo will then execute its respective attack.
The taijutsu or melee system is very simple to learn, yet takes much skill to become the best. The primary function allows players to attack consecutively for five hits, then sending your player sliding back. The secondary function allows players to knock their opponents to the air, where various other methods of attack can then be executed, such as throwing a weapon or performing a jutsu, or jumping in the air to execute an air combo.
Naruto: Naiteki Kensei is still in the developmental stages, so it has not yet been released. The first release will consists of Team 7, which includes Hatake Kakashi, Haruno Sakura, Uchiha Sasuke and Uzumaki Naruto. Roughly, each character will have three character-specific jutsus to use at his or her arsenal.
Naruto: Naiteki Kensei is a free online multiplayer game, created as a fan-project for many others to enjoy. It is a total-conversion of Half-Life 1, meaning the game was created based on the Half-Life engine. In order to play, an installed
steam client
and an installed copy of Half-Life through steam is required.
For more information, please visit
http://www.naiteki-kensei.com/
. If you feel you have great talent that may be a benefit, feel free to sign up on the forums and contact us. Dattebayo!